Dear Martha Hawinga, CEO of Namibian Competition Commission!
Dear Martha Hawanga CEO of NCC!
The owner of NamCars.net is Ukrainian citizen, and I am not permitted to give the name unless the legal court of law will enforce me. This is the law in Ukraine unfortunately, and it's called Personal data protection law.
I am also not authorised to speak on behalf of NamCars.net, because I am only providing technical and marketing support, and currently I am giving to you only my personal impression, and opinion what is going on, and legal owner of NamCars.net might not be agree with me:
Did I understand you right that you don't care about the truth, and all what you want is to shut down namcars.net by any price by using the power which government gave to you?
You should be clearly aware that prohibiting dealers to advertise on namcars.net which located and registered outside of Namibia is out of your jurisdiction, and you are taking advantage of car dealerships fear, and limited knowledge of their rights.
Why you don't prohibit Namibian citizens to use Facebook or Google ?
Why you don't prohibit Namibian citizens to use booking.com, airbnb.com, ebay.com, birorbuy.co.za and 100' of other website which do not publish telephone numbers unless you submit the E-mail?
Why Namibian domain name registrant is charging for registering .com.na domain name N$ 995,00 for Namibian company and N$ 17,227 ($1,164 USD ) for the foreign registrant?
Does it look to you like fair trading conditions? Why you don't do anything about this?
This is very unfair, and most expensive domain name in the world, but we can not do anything about this, and this is one more reason why we had moved to .net - because everything in Namibia is unfair.
Why you are ignoring that fact and NamCars.net never was blocking the dealers for advertising on other sites, only hiding telephone numbers?
You don't hear and read our mails and statements or you just making visibility of it?
And you should be also aware, that prohibiting advertising on NamCars.net during all period of investigation would basically meaning destroying the business, because if it took you 3,5 years to investigate until this point, it might take another 3,5 years to finalise the investigation, and obviously none of the dealers would really wait for so long.
And "accidentally" Republikein is started to advertise cars by themselves on their website by making partnership with Namibian portal www.my.na. And "accidentally" again - you publish the public notice in that newspaper for the whole page big.
Did Republiken publish it for free? or gave you discount for it? or did you pay full price by the money of Namibian tax payers?
But In Ukraine we call it "Hijacking the business" and its going on in Ukraine for the past 20 years, and trust me, I have very big experience to resit this type of "Hijacking" - this is my personal impression about what are you trying to do now, and the legal owner of NamCars.net might not be agree with me.
If not - then explain to me:
Where is Cars Namibia cc website right now?
http://www.cartrader.com.na - is expired for not paying the renewable fee.
So where is your "competitor"?
SHOW ME HIS WEBSITE!!!!!!!!!!!!!!!!
ON 23.07.2016 - Cars Namibia cc - Does not exist on internet!!!!!!!!!
And the most important thing:
What are your demands???
If its to show the phone numbers for all dealers, despite that fact where they advertise - it is fine!
And from today NamCars.net will show all telephone numbers of all dealers, does not matter where they advertise, But I still believe that you exceed your authority, but I have neither the strength nor the desire to meet with you in the courts.
I'll forward this E-mail to the all subscribed car dealers as well, that they are aware of my statement and my communication with you.
Andriy Bondar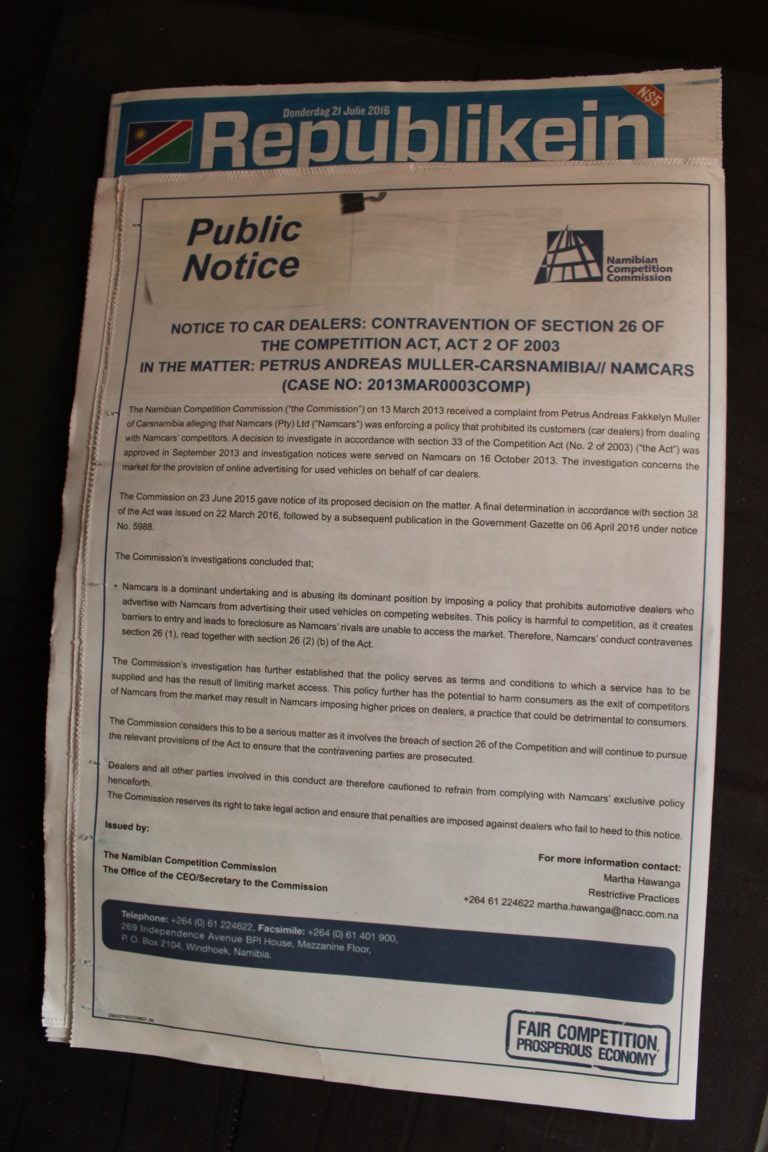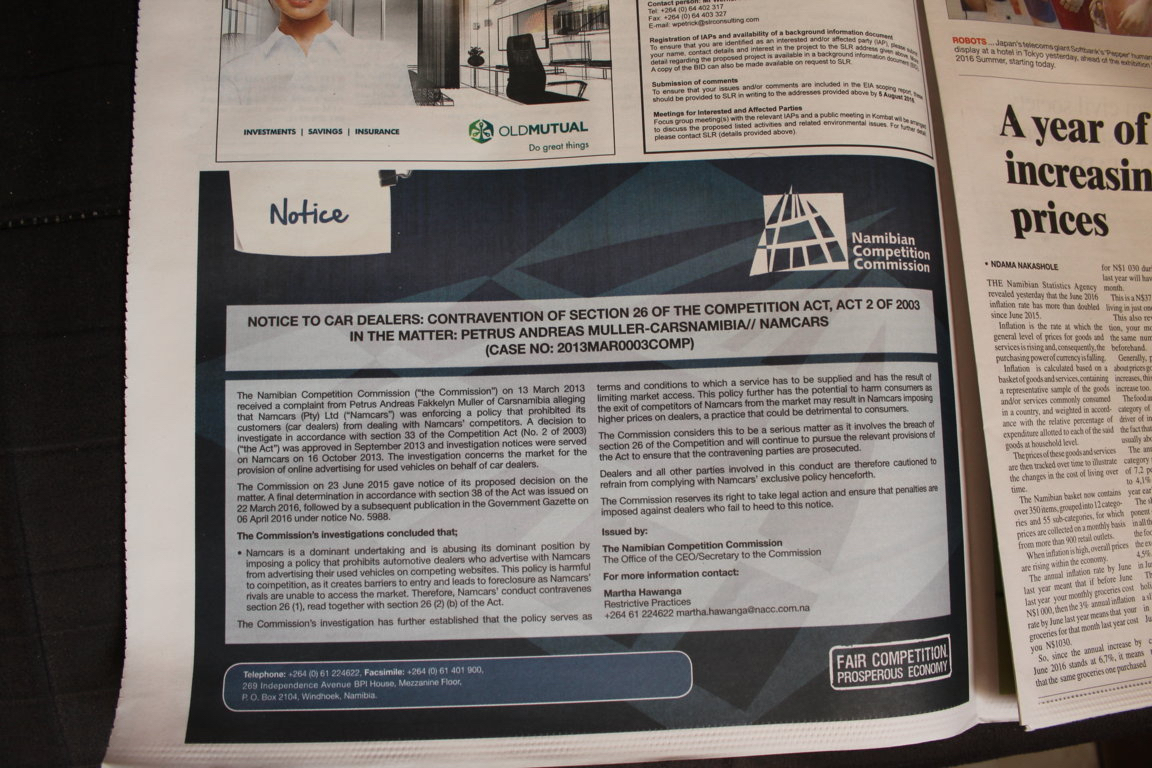 24/07/2016
Comments